Aloha from Paradise Vacation Rentals (est. 1989). We are on the east shore of the island of Kauai- the northernmost island in the Hawaiian Island chain. Our local airport is in Lihue, Kauai. We are on a sandy beach and there is nothing between our units and the ocean but a few trees. The neighbor on one side is empty 95% of the time and the other side has very quiet neighbors: it is a very peaceful neighborhood. We are located in a cove with very calm waters called Anahola Bay. The nearest city is Kapaa (about 7 miles away) where you will find restaurants and shopping.
---
Getting Here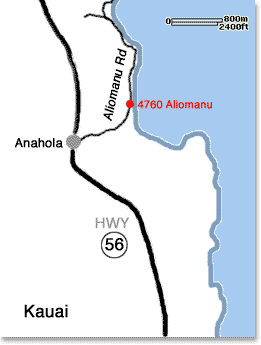 - Leaving the airport, turn right at traffic light onto Highway 51 (kapule Hwy).

- Proceed north on Highway 56 (Kuhio Hwy) until you see mile marker 14 (right after Anahola Post Office)... Approximately 30 minutes.

-Turn right on Aliomanu Road. Drive about one mile.

-Look on the right side of the road for "Vacation Rental" on a blue whale on the garbage can holder (4760 Aliomanu).
For Loft rental, park on the grassy area by the sign. The Loft is on the second floor above the carport.
For house rental, drive down the driveway between the two coconut trees and park to the left.
Mailing address:
P.O. Box 108
Anahola, HI 96703
---
Your host Nana Hillstrom has lived on Kauai for 40 years. She is available to answer any questions or concerns you may have.
"...We had a wonderful time and look forward to our return...the thought of not hearing the surf and eating fresh papaya in the morning is enough to make us want to miss our flight back..."

--Betsey & Kyle Leach from Nevada City, CA

For more information or availability of this unit, please contact:
reservations@hawaiirental.com,
or NaNa at (808) 822-5754 or 1-800-569-3063 (toll free)